Hi all,
We've compiled all the search artificial intelligence news from each edition of our What's Hot Wednesday newsletter. The latest news is featured at the top.
Looking to make your AI prompts better? Search Engine Land has a "Best of the Bot: Optimizing a Contact Us page for Google E-E-A-T" article that showcases Search Engine Land Bot's responses to prompts submitted by readers. We've highlighted some great tips from the article:

It demonstrates the importance of the prompt(s) you give a ChatBot and provides an example of an updated prompt that includes the key elements of task, context, format, and text to guide the ChatBot to provide a more valuable response.
There are "Footnotes (from Search Engine Land's human editors)" that clarify and correct the ChatBot's responses. In short, remember GIGO (garbage in, garbage out) when writing prompts and be sure to take the "trust, but verify" approach when dealing with generative AI ChatBots.
Google Search Generative Experience is officially rolling out links to pages within answers. We knew it was coming as we developed our new SAIO strategy. SGE is in the same place as Bing Chat in terms of link citations. Here's an example of how SGE citations look on the SERP that includes a citation and a link to our SAIO blog.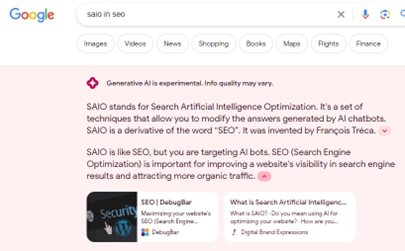 Conversational voice search… is it worth your time to develop a voice strategy yet? Bing Chat and Google's Search Generative Experience seem to be prime candidates for the more conversational aspect of voice search, but Econsultancy concludes that optimization for the voice search is not worth the effort at this time.
🛑 BUT, the above article misses a key opportunity — that optimizing for the conversational chatbots can be a direct and achievable goal! DBE's new SAIO (Search AI Optimization or "say-o") strategy incorporates a variety of SEO best practices including focus on more long-tail and conversational queries the article associates just with voice search. Want to see SAIO in action? Check out our recent blog post and infographic.
Did you assume (like me) that AI can speak and comprehend all languages? Well, currently, that's not true. When you wander out of the French/English/Spanish/mainstream language range, there are far fewer AI tools to leverage. Scientists in Africa are working to advance AI tools in African languages. Read more in Science Daily.
And that's a wrap. Enjoy the day, y'all!