Hi,
How's your week going? Mine's been pretty good, lots of new and energizing connections being made and happy for some of the big changes going on for some of my favorite people.
I saw this from Unify last week and am sharing it here. I think it's easy to see all the horrible news (and I'm not kidding myself—it's horrible) and to get down about everything. Everything is not bad, a lot is bad, and we have major disagreements about what is right and how to make things right, and we collectively have a lot of work to do. But I think there is a lot of good, and it needs to be recognized and shared, because there's a lot of good here too. For me, this is a driver right now: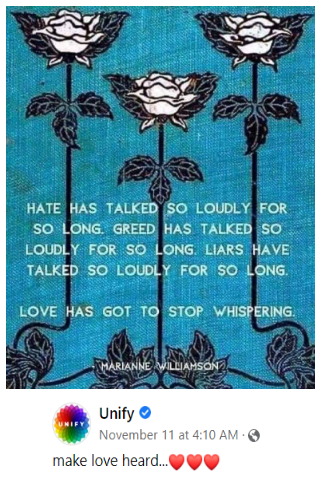 So on that note, here's what else I'd like to share with all the business leaders who are making a positive difference for the people relying on them for guidance, management, and modeling of the behaviors that will take us where we need to go:
Do Good Spotlight


🌟 Lasagna Love 🌟


I learned about Lasagna Love from Melissa Latham, who is one of the volunteer chefs. (Another awesome person I met through The Connective!) This amazing global nonprofit and grassroots movement aims to positively impact communities by connecting neighbors with neighbors through homemade meal delivery. They also seek to eliminate stigmas associated with asking for help when it is needed most. Their mission is simple: feed families, spread kindness, and strengthen communities. You can learn more here. There are lots of ways to help. DBE made a cash donation but perhaps you can volunteer as a chef, a la Melissa.
That's it for this week, and no issue next week 'cause it's Thanksgiving! Enjoy the holiday and  look for the next issue on December 1. In the meantime, stay focused and keep your energy positive!