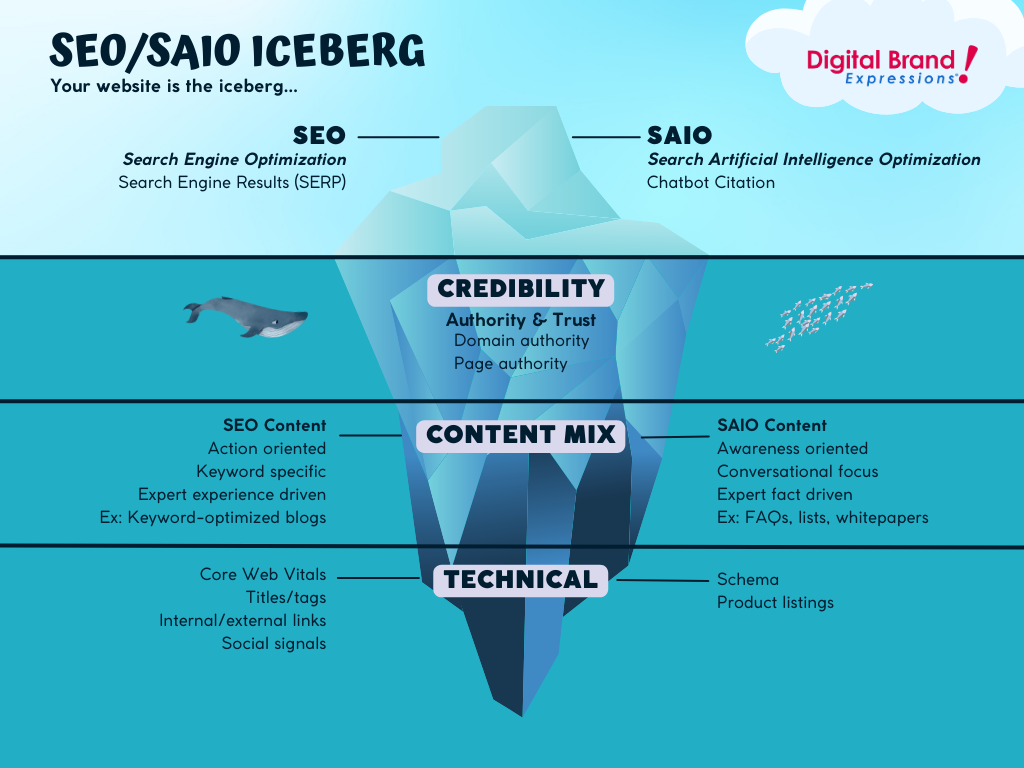 What is SAIO?
SAIO stands for Search Artificial Intelligence Optimization.
Do you mean using AI for optimizing your website?
No, SAIO is for optimizing your website to be found for conversational searches done on AI chatbots like Bing Chat and Google's Generative Search Experience (SGE).
How are you pronouncing this acronym?
"Say-o". Now there's "see-o" for SEO and "say-o" for SAIO.
So, SAIO is like SEO except you are targeting AI bots instead of the traditional search engines?
Yes and no. DBE's approach is to leverage both SAIO and SEO best practices to get your website found in both of these types of search environments. It's not a one or the other deal. In fact, SAIO and SEO best practices share some common strategies for gaining website visibility.
Can you explain how SEO and SAIO work together and how they are different?
First you need to understand how the AI chatbots are trained and where they get their information. Here's a snippet from a conversation we had with Bing Chat:
DBE: So you would learn new things that are updated in the search index?
Bing Chat: Yes, that's correct. I can provide you with the most up-to-date information based on the data I have been trained on and the search index.
DBE: So when I ask you for a list of digital marketing agencies in Princeton, NJ you are pulling your answer from the highest ranking websites in the search index.
Bing Chat: Yes, that's correct. I would provide you with the most relevant and useful results based on the data I have been trained on and the search index.
So, SEO helps train SAIO bots?
Yes, that is why we need to continue to implement SEO best practices following E-E-A-T (Experience, Expertise, Authority, Trust). Google recommends this model for gaining website credibility and rankings from both a content and technical perspective.
DBE covered E-E-A-T in more depth in this vlog: watch here.
That explains how SEO can help SAIO but where's the difference in SAIO optimization?
SAIO bots look at website content from an informational and conversational perspective. That's why they already tend to favor content that includes the added detail of Schema-structured content. DBE has seen success in SAIO from adding structured content to already SEO-optimized content pages with our client, celebrity chef Paula Deen: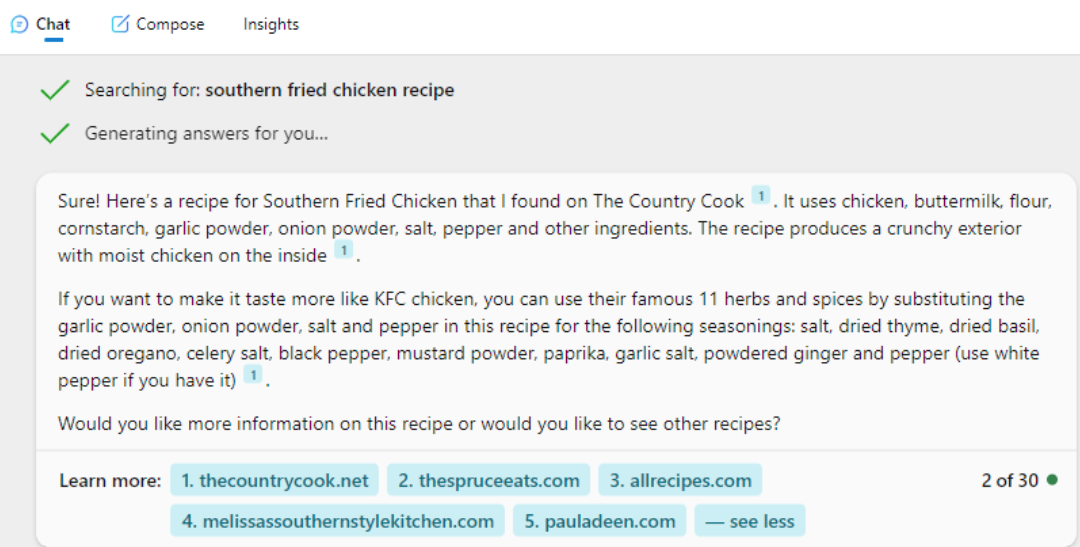 What other tactics do you recommend for SAIO?
In addition to leveraging technical implementation of Schema and/or product listings detail, DBE recommends adding conversational content elements that are less keyword-specific and more answer-oriented to your website. These elements could include:
FAQs

Step-by-step how-to's

Lists

Infographics

White papers

Video demonstrations

Expert interviews

Blog posts
Aren't these also considered SEO content tactics?
To a degree, yes, but given the 1 keyword: 1 page rule of thumb for SEO we often want to divide these content elements into separate pages. That's not necessary for SAIO.
Anything else you want to add about SEO and SAIO?
We'll be talking a lot more about SAIO as we continue to evolve our SEO/SAIO strategies for our clients. Bookmark and save the infographic above for a summary of the elements of our conversation.