Hi all,
We've compiled all the search artificial intelligence news from each edition of our What's Hot Wednesday newsletter. The latest news is featured at the top.
ChatGPT can access the internet for paying users and an update is rolling out soon to all users!
Big news 🥳 You can now check the accuracy of a Bard response by clicking a "Google it" button.

How it works: Sections of the Bard response will then be highlighted in green if Google Search can find similar content that validates the response – or orange when Google Search finds content that differs from the Bard response.
Our Thoughts: We've been testing this feature and, unfortunately, it doesn't work as well as it could. The search query Bard generates doesn't deliver the most relevant Google Search results.
Privacy Note: Also, Bard has extensions that allow Bard to access Google docs, Google email, Google Flights, and YouTube, and some other Google products. From our perspective, having Bard access your docs and email starts raising privacy questions that should be considered before trying these new features.
32% of marketers say they are already using generative AI. 43% are actively considering using it. That's 75% of marketers, according to Econsultancy's "Future of Marketing Survey". The survey also asked what use cases for generative AI were being pursued:

Number 1 was written content creation and copywriting.
Number 2 was SEO keyword research.
Clearly both of these demonstrate how marketers are using AI to support their traditional SEO programs. Not many are leveraging the idea of optimizing for chatbot citations like we are doing with our new SAIO strategy. Check out our latest posts about SAIO and some wins we've had implementing it. We promise, it's not a moo point.
SEO was never really gone (some thought it on a break…), but it did have new competitors for a while as this article shared by Andrea Wolkofsky points out. With the conversational chatbots that include citations, we have a new service called SAIO (Search AI Optimization) that helps our clients to be found when conversational chatbots cite their sources. We've put together our SAIO knowledge to make it easy for you to learn about the latest trend in SEO.
On the flipside, Bing added a control to stop your website from being shown in Bing Chat. If you need this for specific pages of your site (for reasons like paywalls), learn how you can use the NOCACHE and NOARCHIVE tags to block visibility to Bing Chat.
Looking to make your AI prompts better? Search Engine Land has a "Best of the Bot: Optimizing a Contact Us page for Google E-E-A-T" article that showcases Search Engine Land Bot's responses to prompts submitted by readers. We've highlighted some great tips from the article:

It demonstrates the importance of the prompt(s) you give a ChatBot and provides an example of an updated prompt that includes the key elements of task, context, format, and text to guide the ChatBot to provide a more valuable response.
There are "Footnotes (from Search Engine Land's human editors)" that clarify and correct the ChatBot's responses. In short, remember GIGO (garbage in, garbage out) when writing prompts and be sure to take the "trust, but verify" approach when dealing with generative AI ChatBots.
Google Search Generative Experience is officially rolling out links to pages within answers. We knew it was coming as we developed our new SAIO strategy. SGE is in the same place as Bing Chat in terms of link citations. Here's an example of how SGE citations look on the SERP that includes a citation and a link to our SAIO blog.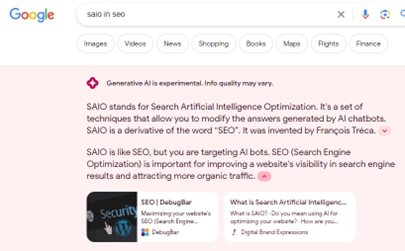 Conversational voice search… is it worth your time to develop a voice strategy yet? Bing Chat and Google's Search Generative Experience seem to be prime candidates for the more conversational aspect of voice search, but Econsultancy concludes that optimization for the voice search is not worth the effort at this time.
🛑 BUT, the above article misses a key opportunity — that optimizing for the conversational chatbots can be a direct and achievable goal! DBE's new SAIO (Search AI Optimization or "say-o") strategy incorporates a variety of SEO best practices including focus on more long-tail and conversational queries the article associates just with voice search. Want to see SAIO in action? Check out our recent blog post and infographic.
Did you assume (like me) that AI can speak and comprehend all languages? Well, currently, that's not true. When you wander out of the French/English/Spanish/mainstream language range, there are far fewer AI tools to leverage. Scientists in Africa are working to advance AI tools in African languages. Read more in Science Daily.
How do you stay visible as AI transforms SEO? 🤖 In this Martech article, AI is replacing search engines as a go-to source for quick answers and this "shift means potential customers have less incentive to click through to your website."

Our POV? It all depends on the types of questions being asked (i.e., the intent of the searcher and the quality of the responses being generated by AI).
ALSO… the article mentions creating unique content that connotes expertise to attract the AI chatbots. This aligns with Google's E-E-A-T strategy and our new dual SEO/SAIO strategy. Read the article, and follow DBE's SEO and SAIO Strategy

for updates!
And that's a wrap. Enjoy the day, y'all!